A Champion of ME/CFS Research, and Friend to All
In Dr. Tompkins' role as OMF's Chief Medical Officer, he facilitated communication between the OMF funded Collaborative Research Centers and supervised OMF's overall strategic plan. This includes patient care, access to treatment, and the development of innovative diagnostics. However, Dr. Tompkins innovative work spanned so much beyond this one title.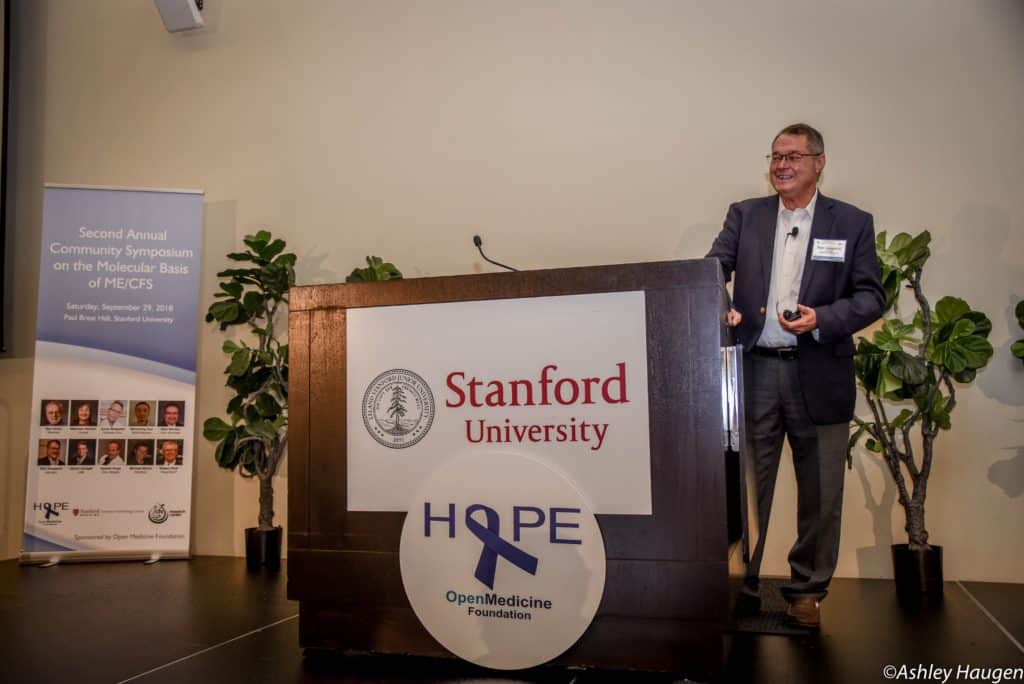 Dr. Tompkins was a kind individual, guided by his determination to help others. From his start on OMF's Scientific Advisory Board in 2014, he brought a unique and compassionate perspective to the field of ME/CFS research. Today, we share with you just a few of the countless reasons why Dr. Tompkins was a pillar of hope in the ME/CFS community and a friend to all:
Dr. Tompkins was on a mission to transform the medical community's understanding of ME/CFS and related diseases:
In 2018, OMF launched the Harvard ME/CFS Collaboration at the Harvard Affiliated Hospitals with Dr. Tompkins and Wenzhong Xiao, PhD, as Co-Directors. In addition to rigorous research, Dr. Tompkins set out on a tireless effort to educate other doctors within the Harvard community about ME/CFS and related diseases.
Word of Ron Tompkins's transformative work spread within the worldwide ME/CFS community and beyond. Health blogger Cort Johnson aptly referred to Dr. Tompkins's impact as the "Tompkins Effect," publishing an article that highlighted Dr. Tompkins' vision for the future of medicine:
"Tompkins and Xiao want to transform how people with ME / CFS within the Harvard hospital system are treated as well. They want patients to get the right tests and see the right specialists. They want the doctors they're working with to be on the same page with regard to diagnostic protocols, standard testing protocols, referrals, etc."
Dr. Tompkins brought his special clinical experience of injury and trauma to ME/CFS research:
Dr. Tompkins spent a large portion of his impressive medical career studying the genomics of injury. Specifically, he had experience working with patients who have survived life-threatening traumas and examined how the body responds to injury on a molecular level. This investigative process was facilitated through the NIH-funded "Glue Grant Program."
This large-scale, in-depth data analysis provided Dr. Tompkins with a special understanding of inflammation and metabolic features of humans in response to severe stresses. He soon discovered that this knowledge was highly applicable to ME/CFS. Watch this illuminating interview with Ron, in which he explains the Glue Grant Program.
Dr. Tompkins always put the patient first:
As shared by a person with ME/CFS, "As an audience member who had heard Ron speak at a panel on ME/CFS, I decided to write to him with a question of a personal nature, not necessarily expecting a reply.  Without knowing me from a hole in the wall, Ron wrote back to me warmly and with great compassion. Such a rarity. His passing is a great loss."
We invite you to read and contribute more touching memories, messages, and ways in which Ron Tompkins' work inspired hope on our KudosBoard. We will share this board with Ron's family so they can read how much Ron meant to so many.
In lieu of flowers, Ron Tompkins' family asks that donations in Ron's memory be made to Open Medicine Foundation. Your donation will continue Ron's legacy by supporting research at the Ronald G. Tompkins ME/CFS Collaboration at the Harvard Affiliated Hospitals.