President of the CFS/ME Italian Association Opens up About her Battle with Illness.
My name is Giada Da Ros, I am the president of the CFS/ME Italian Association, as well as a patient myself, and I am part of the newborn EMEC (European ME Coalition). I am an OMF volunteer and this past September I donated blood to research at the Stanford Clinic (see picture).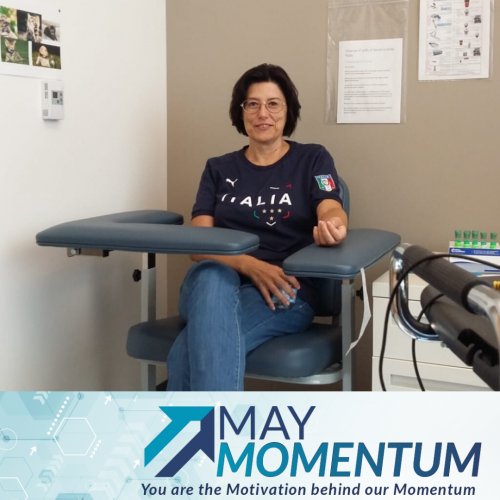 Before I got sick I was leading a normal life as a University law student. When I fell ill, nearly 30 years ago, I could barely go out of bed. There were times when I needed to be spoon-fed and helped to the bathroom. It took me 12 years before I was able to watch a film in one sitting. I constantly improve, but even now my life is far from normal. I rest all morning and I do light activities the rest of the day. I can now go out, and even drive a bit, several days in a row, if I don't overdo it. Otherwise I pay for it, as always. Still, more than 2-3 hours at the computer guarantee a crash. If I go grocery shopping or I socialize, I can't do much the following day. 
I've not been healthy for such a long time, it's even hard to imagine what I could do if I were. I just know I am hungry for experiences that have been denied to me. 
Many things happened this year that really made me feel like we're building momentum to end Myalgic Encephalomyelitis / Chronic Fatigue Syndrome (ME / CFS): the OMF community symposium that I attended, seeing a EU draft for a resolution to give money to ME / CFS research, the unwavering OMF commitment to research even in the midst of an unprecedented lockdown.
Let's #endMECFS together. Please visit www.omf.ngo/MayMomentum to find out more. Thank you!